Frank's Brilliant Final Rush
16.11.2009
Frank's Brilliant Final Rush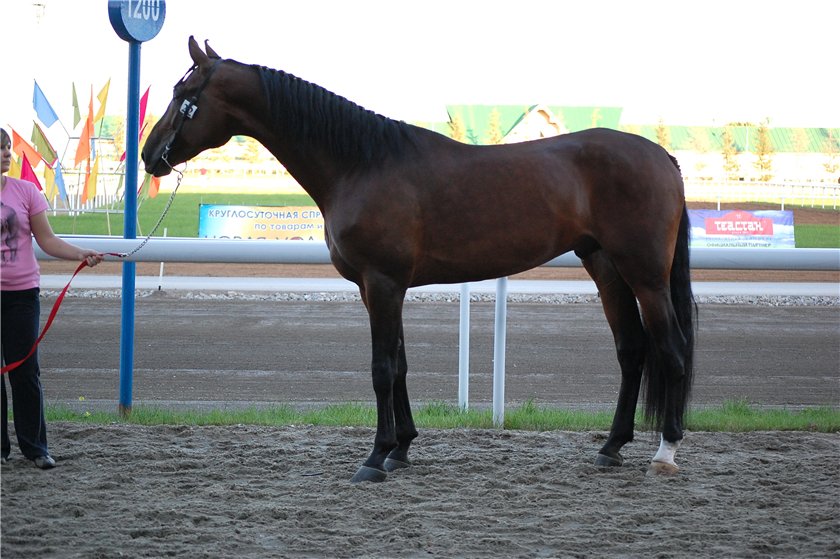 Ôîòî: Îêñàíà Áóåâè÷
On November 15, 2009, Moscow's Central Hippodrome held its traditional prize race for 4-year-old Orlov trotters. Eight top Orlov trotters from Khrenovsky, Chesmensky, Zaporozhsky and other studs met on the race track.
The bay stallion Frank, foaled at Moscow Stud Farm No. 1 in 2002, passed his rivals in a brilliant final rush, coming in at 3.14 – one of the best times ever for this race.
Owned by State Duma member Andrei Knor, Frank was ridden by jockey Sergey Matveyev. The stallion's performance was not outstanding until Knor acquired him in 2008 and sent him to Matveyev for training. Frank demonstrated excellent results under the saddle of his young jockey Ksenia Matveyeva, placing third at the Bois de Vincennes hippodrome outside Paris. He later took the third Russian Winter prize and the Pion prize at the Moscow Hippodrome and won the semi-finals and placed second in the finals of the Second All-Russian Orlov Trotter festival in Ufa. November 15 was a long-expected victory for Frank. During the 2009 season Frank beat his own time in the 1,600-meter race twice: by 2.04,2 in Moscow and by 2.03,7 in Ufa. Frank's mother, the bay mare Fraza from Moscow Stud Farm No. 1, is famed for foaling two stallions classed at 2.05 or better. Frank's sire is Kipr, a distinguished stallion at the Perm Stud Farm.
We wish Frank, his owner and his jockey many new records and victories!
Note: The November 15 race was dedicated to Krepish, popularly known as "the Horse of the century." Born in 1904, Krepish was a unique Orlov trotter, a record-holder and the best horse among a large field of international competitors (including American racehorses). An audience favorite in Russia, Krepish was a symbol of national horse breeding.