FOR EQUESTRIAN SPORT LOVERS AND HORSE OWNERS
Moscow Stud Farm No. 1 is located in one of the most picturesque areas of Moscow region. Its vast territory and lovely natural surroundings are perfect for horse riding and outdoor activities.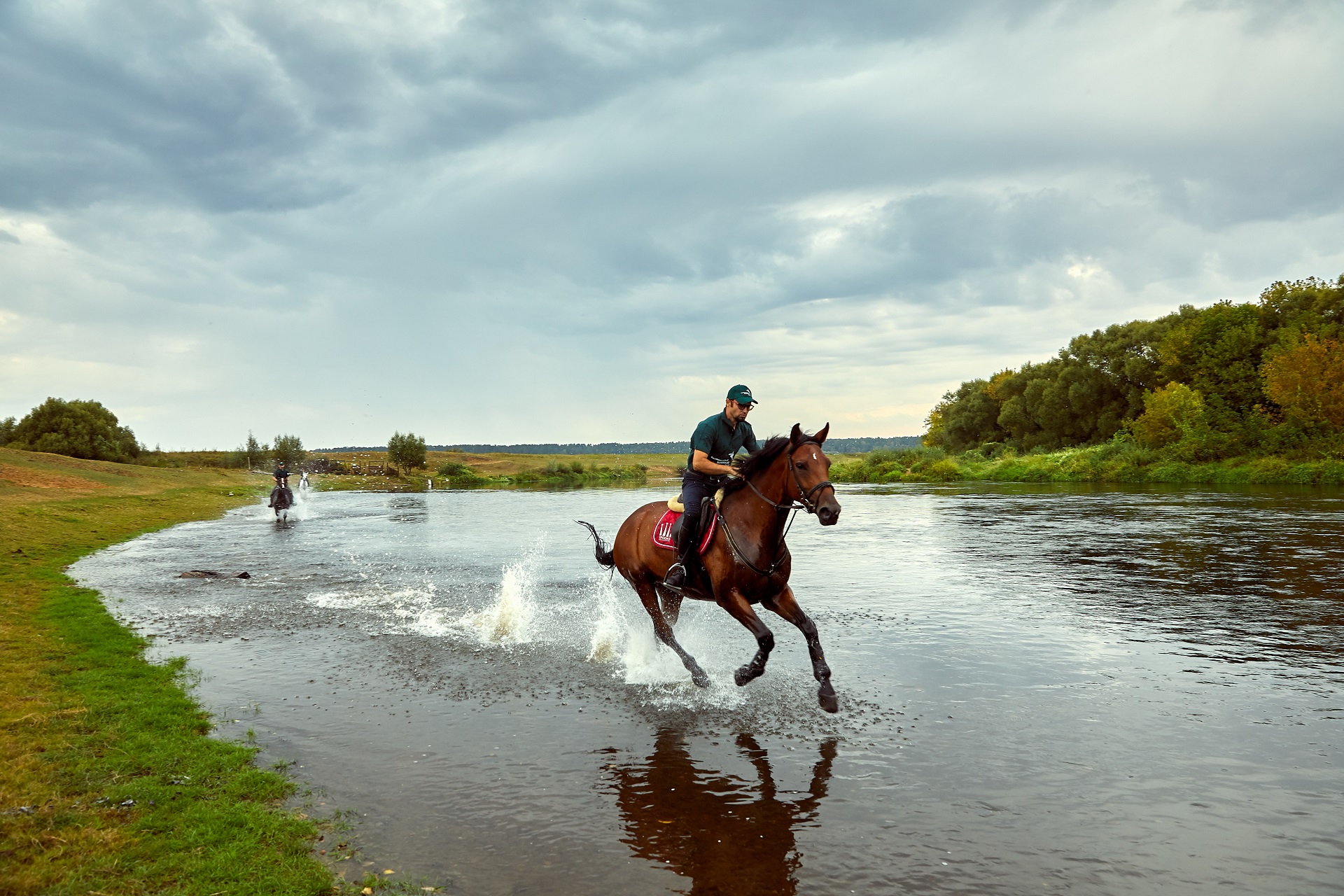 Our experienced instructors help beginners master equestrian skills and provide them with all necessary equipment (riding hats, gaiters and whips) during lessons. Our instructors offer show jumping and dressage programmes of varying difficulty, depending on your preferences and skills.
Experienced riders can go on exciting horseback riding nature tours. Carriage rides with one, two or three horses are also popular. Our guests have access to well-equipped stables, two spacious, well-lit heated riding halls, two outdoor riding arenas, a hippodrome with a 1,600-metre-long track, secure parking lots, convenient locker rooms with personal storage lockers, showers, and lavatories.
The riding hall complex at Moscow Stud Farm No. 1 offers accommodation for horses owned by private individuals and legal entities.
Full-board accommodation includes:
Feeding

Broom services

Horse training services

Veterinary services
Moscow Stud Farm has everything you need for horseback riding:
Two indoor heated riding halls with special equestrian surfaces that meet European standards

Three outdoor arenas with special equestrian surfaces that meet European standards and a bottom watering system


Automated eight-horse walker


Rental stables include 12-m2 (3x4) box stalls and heated and unheated wash stalls.


Stables in the upper riding hall include 12-m2 (3x4) box stalls, heated and unheated wash stalls, and an equine solarium.


Private owners and renters can use lockers in a heated locker room equipped with a shower room and a lavatory. You can keep equestrian equipment in our tack rooms.


Secure parking lots by the upper and lower riding halls.


Moscow Stud Farm's in-house veterinary service takes all necessary preventive health measures and provides emergency veterinary care if needed.


A set of obstacles for training and competitions.


A set of dressage fences.


Professional instructors with vast experience in working with both beginner riders and experienced amateur athletes.


Two cars to transport four and nine horses each.


Tours to the banks of the Moscow River, where trained riders can go horseback riding.


Paddocks where you can pasture horses on a scheduled basis.


An equestrian shop in the upper riding hall (through the central entrance).


Russian Troika department; carriage rides (one-, two- and three-horse teams).